FV PP-RCT FASER COOL. Pipes suitable for industrial cooling circuits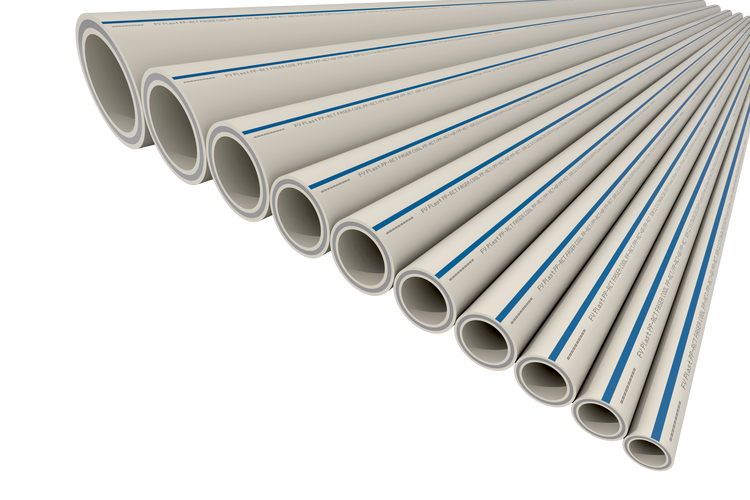 We would like to present modern, high flow pipes that are ideal for transporting cooling media. They are fibreglass reinforced, and can be used for, e.g. industrial cooling and air conditioning. FV PP-RCT FASER COOL pipes have an excellent flow rate, and are manufactured based on the principle of several layers.
The inner and outer layers are made of the new generation PP-RCT polymer. Thanks to the special β-nucleation process, it ensures a significantly more resistant hexagonal crystalline structure. Compared to PP-R pipes, PP-RCT pipes can work with higher wall pressure, and achieve the same or higher thermal and pressure resistance at a significantly lower thickness of the wall.
COOL pipes can be used for
Industrial cooling circuits
Air conditioning circuits
Drinking water distribution systems
Technical parameters
Ø 40-125 mm

160-250 mm

Colour

Grey RAL 7032, blue stripe

Composition of the wall

PP-RCT / PP-RCT+GF / PP-RCT

SDR

11

11

S

5

8

Pressure resistance - water 20 °C

15.3 bar

9.6 bar

Pressure resistance - water 40 °C

11.3 bar

7.1 bar

Longitudinal coefficient of thermal expansion

0.05 mm/m °C
Greatest advantages of the pipes
27% higher flow rate than that of comparable FV PPR FASER PN 16 pipes.
High shape stability and low thermal expansion.
Operating temperature from -5 °C to 90 °C.
Easy joining using the proven polyphase welding technology.
Diameter options of up to 250 mm.
Service life of more than 50 years.